Landlord Investment Show - London
LIS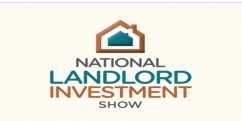 Date:

Tuesday, 03 November, 2020 at 08:30

Location:

Olympia, London

Type:

Exhibition

Cost:

Free
National Landlord Investment Show is the UK's leading Property Event for Landlords, Investors and Property Professionals.....
About this Event
The UK's Leading Landlord and Property Exhibition.Olympia London, Tuesday 3rd November 2020 - 8.30am to 5pm - FREE entry.
The National Landlord Investment Show is the UK's leading landlord and property exhibition, offering unparalleled advice and guidance to property professionals, landlords and investors.
The National Landlord Investment Show offers peerless access to the landlord investor market and our Olympia London show attracts up to 4000 UK Landlords, seeking information from leading property experts and advice from a multitude of service providers who can help manage and grow your property portfolio. Committed to helping you on your landlord investor journey we connect Landlords, Investors, Developers & Property Professionals with industry leaders & service providers, and offer highly informative seminars which offer guidance in a constantly evolving marketplace.
Agenda of the day:
8.30am - Doors Open
8.30am - 9.30am - Morning Networking Event
9.30am - Main exhibition hall opens
10am - 11.15am - Panel Debate: TBC
11.30am - Seminars commence across 5 seminar rooms
1.30pm 2.30pm - Panel Debate: TBC
3.30pm - 4.30pm - Panel Debate: TBC
5pm - Show closes
Returning to Olympia London for the 16th occasion since 2014, the National Landlord Investment Show is 100% dedicated to the UK landlord and investor market and this event marks our 73rd exhibition since our inception in May 2013. Offering access to speakers and services from all areas of the buy-to-let market and the private rented sector (PRS), If you have an interest in Investment Opportunities, Landlord Tax, Buying at Auction, Finance/Mortgages, Tenant Management & Landlord Insurance (to name but a few), then this is the show for you.
100+ exhibitors covering all areas of buy-to-let
40+ seminars by leading industry experts
3 panel debates featuring expert panelists from government, media and property industry
Doors open at 8.30am and close at 5pm.
If you have an interest in buy-to-let or the private rented sector this is a must attend event. Register now for FREE admission and receive up to 5 CPD points towards your accreditation.
If you are interested in exhibiting at the show or wish to know more then call 0208 656 5075 or email [email protected]