Surrey Property Exchange
Richard Simmons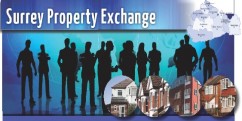 Date:

Monday, 13 December, 2021 at 18:30

Location:

Guildford Holiday Inn, Home

Type:

Networking

Cost:

37
Our December event will include our hosting of a Christmas curry, so make a date now for Monday 13th!
We'll cover some important aspects that effect many of us - so don't miss what should be a really good night.!!
Getting applications approved by local authority planning officers seems to have become even more challenging.

Our planning expert, James Hutchison, will give an insight into what to do and the things to avoid, based on real life examples from the past 12 months. Getting funding for deals challenges lots of us - finance specialist, Rory O'Mara, will look back at 2021 and offer advice and guidance from an investment perspective.
We'll have a look at Reposit, which might be a real help for you as a landlord, and there will be a Christmas property quiz, hosted by Paul Watson. We're aiming to have some 'Hot Deals' for you aswell....
All this and more besides, so we hope you can join us..!
Tickets for next month are subsidised as a thank you gesture from us for your support over the last 12 months.

Why not grab your early bird ticket now...?
http://www.surreypropertyexchange.co.uk